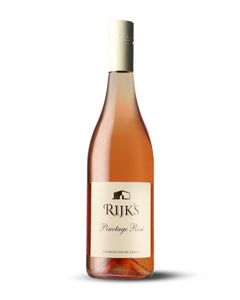 Cellar To Door Wines
Rijk's Pinotage Rosé 2021
Regular price
$145.00
$0.00
Unit price
per
Winemaker Pierre Wahl
Pinotage is South Africa's signature red wine grape created in South Africa in 1925 by Abraham Izak Perold, the first Professor of Viticulture at Stellenbosch University. Perold was attempting to combine the best qualities of the robust Cinsault (also known as Hermitage) with Pinot Noir, crossing a Rhone and Burgundy cultivar. The first Pinotage wine was produced in 1941.
Rarely found anywhere else in the world. Pinotage is a one of a kind rustic red wine.
Rijk's Pinotage Rosé is medium bodied, dry and fresh. Fruit driven and elegant.
Grapes were night harvested and picked by hand to retain flavours.
Grapes were crushed, destemmed and given a two-hour maceration before being pressed. Only the best quality juice, with the softest shade of pink colour was used. The juice was cold fermented in a stainless-steel tank for 3 weeks in order to preserve its freshness and attractive Rosé flavours. The wine was kept on fermentation lees for 3 months to add some creaminess to the palate.
Characteristics:
Medium bodied Rosé Wine. Fruit driven and elegant.
Tasting Notes:
Attractive rose-gold colour. This lovely rosé has an attractive "fresh cut flower" bouquet, with a strawberry undertone. The palate is layered and creamy, yet refreshing. A lovely drink for any occasion.
Best Enjoyed: Poultry and Venison
Ageing Potential: 5 years after vintage, but should give more pleasure if consumed now.
Serving Temperature: Enjoyed best served at 10°C -12°C
---
Share this Product
---