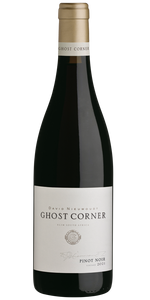 Cellar To Door Wines
Cederberg Ghost Corner Pinot Noir 2021
Regular price
$270.00
$0.00
Unit price
per
Wine Maker David Nieuwoudt
The Ghost Corner range is inspired by the extreme coastal area around Cape Agulhas near Elim, known as 'Spookdraai' where many ships have been wrecked. These wines are as intriguing and extreme as the story of their origin at the southernmost tip of the Cape winelands.
Grapes are hand harvested between 22.8 – 23.8 balling. 15% whole cluster added to some of the tanks with a natural fermentation to take place and other tanks have been inoculated for fermentation. During fermentation gentle extraction takes place with one pump-over a day and two manual punch downs of the grape cap. A maximum temperature of 27°C is reached. On completion of fermentation, grapes are pressed and barrelled in 228l French oak. Malolactic fermentation is completed in barrel and maturation is over 10 months. 20% 1st fill, 20% 2nd fill, 20% 3rd fill, 20% 4th fill and 20% 5th fill barrels, tight grain with medium toast.

Tasting Notes:

A pale, translucent ruby colour leads to a dusty strawberry nose, reminiscent of 'just picked' strawberries from a damp strawberry patch. The nose is earthy and layered with intrigue as the play between wet tea leaves and earthy aromas mingles with sour cherries and those previously noted dusty strawberries.
Medium to light bodied, with lip-smacking sour cherries and savoury earthy notes. For maximum enjoyment, allow this beauty to evolve more with a few years of ageing. This wine is textbook Pinot Noir, with brilliance in its youth, but brimming with promise and allure for its ageing potential.
Best Enjoyed:
By nature, Pinot Noir has a natural high acidity and low tannin structure which makes it a brilliant partner to a wide range of food flavours. Partners brilliantly with charcuterie, including hickory or parma ham and other cold meats, terrines and grilled asparagus or a carpaccio with rocket and parmesan shavings. Goes equally well with beef wellington, roast pork with fennel, roast chicken or a rack of lamb, the latter served pink in the middle. Also good with grilled game, fish or whole fillet steak, served rare, and mushrooms done in any way, as a risotto, stir-fried or grilled. Try it with mild curries or creamy dishes. Brie and similar mild white rind cheeses or even milder blue cheeses such as gorgonzola will also pair beautifully.
Optimum Drinking Time: 3-6 years

Accolades:
Platter's SA Wine Guide '23: 4.5 stars – 2020 vintage                                                  Tim Atkin Report '22: 92 points – 2020 vintage.                                            Michelangelo Awards '22: Double Gold – 2020 vintage
International Wine & Spirit Competition '21: Silver – 2019 vintage.                      IWSC'21: Silver - 2019 Vintage                                                                                  Platter's Wine Guide'21: 4.5 Stars - 2019 Vintage                                          International Wine and Spirits Challenge'21: Silver - 2019 Vintage        Michelangelo'21: Gold - 2019 Vintage                                                                       Veritas '21: Silver outstanding - 2019 Vintage
Gilbert & Gaillard'21: Gold Medal - 2018 Vintage                                                         John Platter Guide'20: 4.5 Stars - 2018 Vintage                                                          IWC Tranche'20: Silver - 2018 Vintage                                                           Michelangelo Awards'20: Gold - 2018 Vintage
EnviroWines® is a pioneering concept that has been developed to encourage and give recognition to growers who produce grapes and wine through environmentally sustainable practices, showing optimum implementation of these practices in order to protect our environment.
---
Share this Product
---