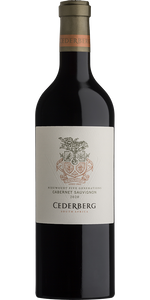 Cellar To Door Wines
Cederberg Five Generations Cabernet Sauvignon 2020
Regular price
$465.00
$0.00
Unit price
per
Winemaker David Nieuwoudt
Since making Cederberg their home in 1893, the Nieuwoudt family have cultivated and protected the unforgiving, but beautiful Cederberg region. The Nieuwoudt Five Generation range - the vineyard's flagship range - showcases the best of the Cederberg. Only 5600 bottles of the Cabernet Sauvignon are produced every year.
A premium wine in the Cederberg Range, only 6700 bottles were produced in 2020.
Grapes are hand harvested at 24.5 – 25.5 balling. Cold soak for two days before it is inoculated with yeast. During fermentation colour /flavour extraction takes place with regular pump-overs every six hours along with two to three manual punch downs of the grape cap. A maximum temperature of 27°C is reached. On completion of fermentation a further 14-18 days of extended skin maceration takes place before pressing and barrelling in 225l French oak. Malolactic fermentation is completed in barrel and maturation is over 18 months. A premium selection of only 18 barrels. 100% 1st fill barrel only of tight and medium grain with medium and medium-plus toasting.
Tasting Notes:
This is not your typical big, bold, tannic Cabernet Sauvignon, but rather a refined version of the classic grape variety. The nose opens up with rich red and black berry 'fruits of the forrest', with blackcurrants and mint leaves leading the way together with spicy blue-gum tree peppery notes. 
The palate is awash with black pastilles enveloped in the silkiest tannins and balanced acidity, creating a chalkiness and linearity on the finish. These velvety tannins make this wine incredibly accessible now, but for true pleasure it needs to age to come into itself. This vintage promises great ageing potential. If it is enjoyed now, it is highly recommended to decant the wine before serving.
Refined, silky and elegant, this is classic, cool-climate Cabernet at its best.
Best Enjoyed:
Whatever we suggest: choose the best and most pure on the shelves of your local supermarket or delicatessen. Beef – with a little fat. Juicy lamb – not too rich. Home cooked berry sauce with a little cream. Beef liver or beef dominated dishes.
Cheese: Beaufort, Gouda, Cheddar, double Gloucester and Stilton.
Optimum Drinking Time: 5 -9 years

Accolades:
International Wine & Spirit Competition '22: Silver (90 points) – 2019 vintage    Concours Mondial de Bruxelles '22: Grand Gold Medal – 2019 vintage                Platter's SA Wine Guide '22: 4,5 stars – 2019 vintage.                                        Decanter World Wine Awards '22: Gold (96 points) – 2019 vintage
Decanter World Wine Awards '21: Best in Show: 97 points – 2018 vintage              SAWi Awards '18 - Platinum: 100 points
Platter's SA Wine Guide '20: 4.5 – 2017 vintage IWSC '19: Silver – 2017 vintage
Tim Atkin '19 Report: 93 points – 2017 vintage IWSC '19: Silver – 2017 vintage
Old Mutual Wine Trophy '19: Bronze – 2016 vintage
Decanter World Wine Awards '19: Silver – 2016 vintage
Prescient Cabernet Sauvignon Report '19: 90 points – 2016 vintage
EnviroWines® is a pioneering concept that has been developed to encourage and give recognition to growers who produce grapes and wine through environmentally sustainable practices, showing optimum implementation of these practices in order to protect our environment.
---
Share this Product
---