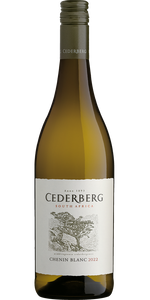 Cellar To Door Wines
Cederberg Chenin Blanc 2022
Regular price
$150.00
$0.00
Unit price
per
 Winemaker David Nieuwoudt
It's a little known fact, but a fact all the same, that South African Chenin Blanc wines are among the world's finest.
With a cool continental climate, diverse soil types, unpolluted air and free flowing crystal clear waters create ideal growing conditions. According to SAWIS it is still the most planted vineyard in South Africa at approximately 17000 hectare.
Grapes are hand harvested early morning at 20-23.5 balling. Winemaking processing is done in reductive conditions with the use of dry ice and carbon dioxide gas. Grapes crushed at 8°C with approximately 5 - 8 hours skin contact before a light pressing. Two days of juice settling followed by racking and addition of selected yeast. Fermentation is at 11°C for approximately 24 days. Finally, the wine is further maturated on fine lees for additional 4 months with a monthly battônage of tank before the final blending and bottling.
Tasting Notes:
This cool-climate Chenin Blanc renders a refreshing, mouth-filling style of wine that leaps from the glass with green melon, cut granny smith apple, juicy pear, passion fruit and fresh herbs. Deliciously refreshing on the palate with all the fruit nuances kept in check by the classic Chenin acidity. 
Best Enjoyed:
This Chenin Blanc loves fish in all its guises. It also partners well with spicy foods, including lighter curries and peri-peri dishes and even with the delightful bitterness of plump Kalamata olives. The versatility of this cool climate Chenin is one of its key attributes, making this an all-rounder and a wine that no fridge should ever be without.
Optimum Drinking Time: 1 – 3 years after release

Accolades:
Michelangelo Awards '22: Gold - 2022 Vintage
Platter's SA Wine Guide'22: 4 Stars - 2021 Vintage
Platter's SA Wine Guide'21: 4 Stars - 2020 Vintage
Platter's SA Wine Guide'20: 4 Stars - 2019 Vintage 
Platter's SA Wine Guide'19: 4 Stars - 2018 Vintage
Veritas'21: Silver - 2021 Vintage
Veritas'20: Silver - 2020 Vintage
Veritas'19: Silver - 2019 Vintage
Tim Atkin Report'18: 90 Points - 2018 Vintage
Tim Atkin Report'17: 90 Points - 2017 Vintage
Stephen Tanzer - USA'17: 89 Points - 2016 Vintage
EnviroWines® is a pioneering concept that has been developed to encourage and give recognition to growers who produce grapes and wine through environmentally sustainable practices, showing optimum implementation of these practices in order to protect our environment.
---
Share this Product
---